Announcement
West Warwick Wizards Varsity had Solid Season in 2014!
More editing options
The West Warwick Wizards Varsity and Junior Varsity baseball teams enjoyed solid seasons in 2014.
The Varsity baseball team finished 10-6 in league play and qualified for the post season for the third time in four years. Although they lost back to back one run losses in the regional to Warwick Vets (2-1) and Tolman (4-3), the Wizards received plenty of accolades for their fine play on the diamond this season. In fact, the Wizards received one of the highest honors of the year by being recognized as the 2014 Robert Costellow (Association of Baseball Umpires of Rhode Island) as the Sportsmanship Team of the Year.
In addition to qualifying for the playoffs and receiving the Sportsmanship Award, several players were recognized for their play on the field this season. First, Gregg D'Ambrosca received his third consecutive All Academic Award (Soccer, Basketball, and Baseball). After batting .411 in 2013, the senior led the Wizards with 23 r.b.i.'s this spring. In addition, senior Richard McNeil and junior Kody Greenhalgh were two of seven Wizards named to the Division II-South All Division Team.
McNeil, who earned First Team Honors, was the most consistent batter in the Wizards batting order this spring (.410 batting average, five extra base hits, 22 walks, 16 runs scored, 17 r.b.i.'s and an OBP of .598). Greenhalgh capped off a memorable junior year by earning his third All Division honor in three sports (football, basketball, and baseball). While making 48 putouts in centerfield this spring, he led the Wizards with ten extra base hits (.333 batting average, 20 runs scored, and 11 r.b.i.'s and a slugging percentage of .556).
Second Team Honors were earned by junior Evan Barrera (.356 batting average, seven extra base hits, 17 runs scored, and 21 r.b.i.'s), junior Ray Zincone (.329 batting average with 31 runs scored, 13 stolen bases and an OBP of .511), and sophomore Matt Grenier who led the Wizard pitching staff with a 5-2 record (45 innings pitched, an ERA of 1.87, a WHIP of 1.29 with 30 strikeouts). In addition, Grenier (.500 OBP with 18 runs scored and 22 walks), led the Wizards with a fielding percentage of .982 while playing second base this spring.
Honorable Mention Honors were given to junior Tyler Boisclair (.308 batting average, three doubles, 14 r.b.i.s, and an OBP of .447). Besides that, Boisclair, who caught the most innings for the Wizards, also struck out 12 batters in 18 1/3 innings of relief pitching. Sophomore Tom Doran finished with a respectable 3-2 record in 9 games started this spring. In 36 2/3 innings pitched, Doran posted an ERA of 2.10, a WHIP of 1.17 and struck out 22 batters.
Lastly, the West Warwick Junior Varsity team advanced to their fourth consecutive II-South League Championship. After winning three years in a row, the Wizards narrowly missed out on a fourth championship, losing to a talented Tiverton team which posted a record of 16-2. Sophomore Matt Hopper led the full time players with a batting average of .333 (12/36 with 7 runs scored, and 6 r.b.i.'s) and led the pitching staff with 31 innings pitched.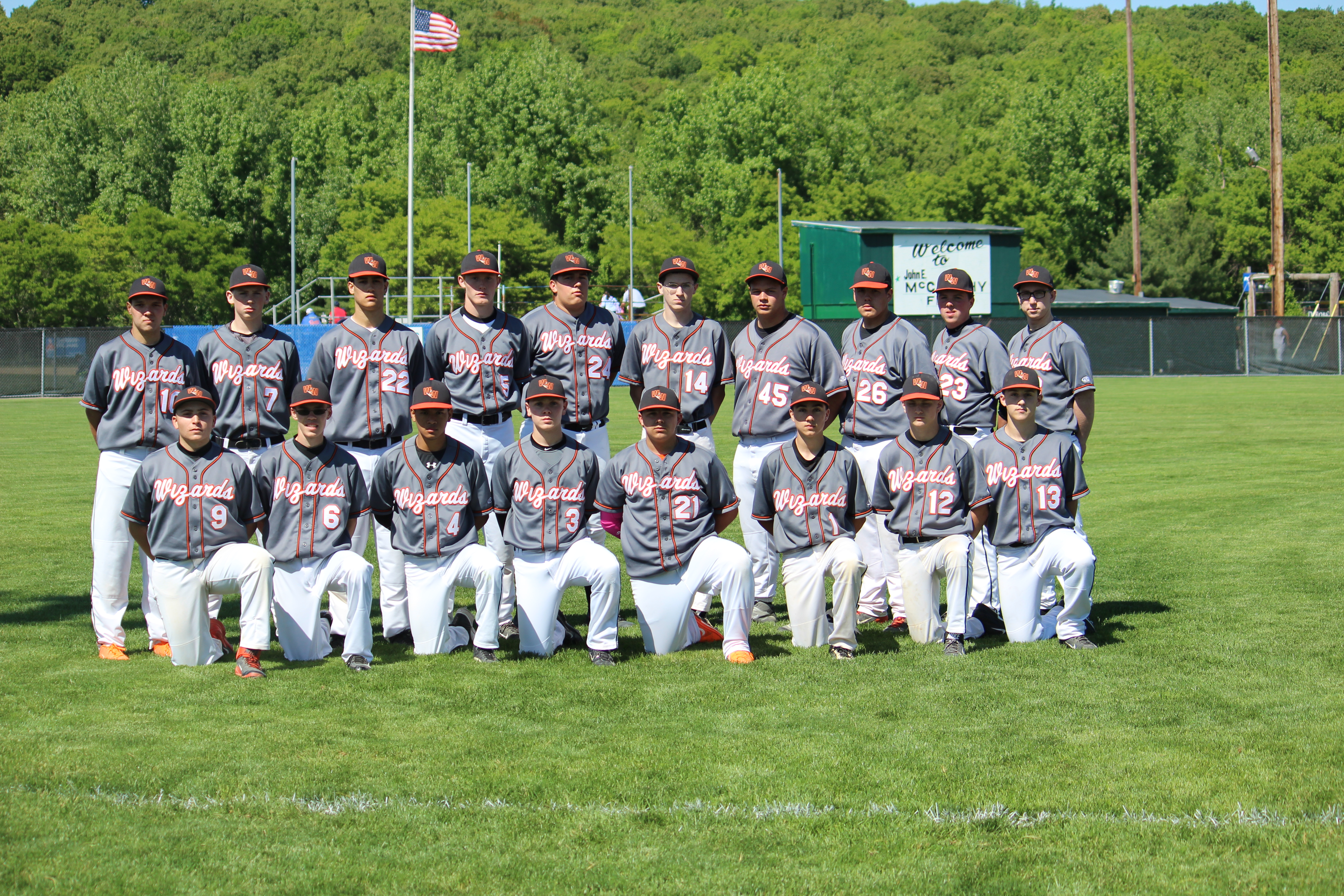 Comments
There are no comments for this announcement.